Blessings for Brittany Fundraiser Benefit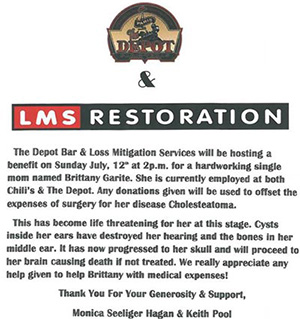 Recently, The Depot Bar and Loss Mitigation Services hosted a benefit to support a hardworking single mother named Brittany Garite. Brittany works two jobs at both The Depot and Chili's and has been diagnosed with the disease Cholesteatoma.
Cholesteatoma is an abnormal skin growth behind the eardrum that can lead to a variety of complications including hearing loss or destroying the bones in the middle of the ear, or worse, muscle paralysis in the facial structure. In Brittany's case, the disease has become life threatening and cysts inside her ears have destroyed her hearing and the bones in her middle ear. It has progressed to her skull and will proceed to her brain causing death if not treated.
LMS Restoration teamed up with The Depot to host a benefit on July 12th in order to raise money for the medical expenses to get Brittany the treatment she deserves. The event, "Blessings for Brittany," had everything from a bounce house and dunk tank, to live music and barbecue. Thanks to all of the generous donations and sponsors, more than $4,200 was raised to help Brittany offset the expenses of her medical care.