Water Extraction Process in Houston & Galveston, TX
If you've ever been the victim of an unfortunate flooding — whether by a storm, broken pipe, sewer backup, or leftover water that was used to put out a terrible fire, everyone can agree on one thing: there is absolutely no time to waste. Your home needs to undergo the water extraction process immediately, as additional damage can happen the longer water sits in your home. Your first priority should be preventing the water from spreading as much as possible to contain the amount of damage and prevent the growth of mold and wood rotting. Not only is mold a serious health hazard, but it can also damage the integrity and infrastructure of your home.
Water Extraction Process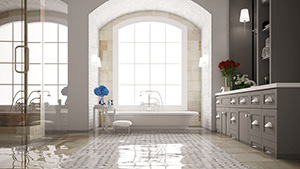 Most people will jumpstart the drying process as soon as they find indoor flooding and standing water in their home or business but simple towel drying and buckets are not enough to fix the problem. Restoration specialists will work fast to provide water extraction that removes even large amounts of water in a fast and efficient manner. With our water extraction equipment, we can get rid of water deep within the floors and carpets by bringing the water to the surface and removing thee water completely.
Unlike soaked carpets and wet carpet padding, there are other areas in your home where you may not notice water hiding, such as drywall and ceilings. In fact, you may not ever even see this water until it causes mold or wet spots within the wall. Fortunately however, we have advanced restoration equipment such as moisture detectors and infrared cameras that locate areas in your home where water is not easily visible and measure the amount of moisture. This helps us remove the water and prevent other water damage, mold and secondary damages from developing - only where necessary.
Contact us for a
FREE

Estimate
---
We also have truck-mounted and portable extraction units to perform the most efficient water removal processes for large loss floods and damage.
Always Choose LMS Restoration Houston for Water Extraction
At LMS Restoration Houston, we have been serving homes and businesses in Greater Houston & Galveston, Texas areas, since 1997. Our team of trained restoration professionals will only use the best and most advanced resources and restoration techniques to bring your home back to its pre-damaged state.
We offer quality services for both water damage and fire and smoke damage restoration, and we are your reliable source for both residential and commercial properties. If you are in need of water extraction or any type of disaster restoration services, give us a call at: 281-572-8798 or visit our contact us page. We are always ready to help.